FAQ: How your ketubah is made
Your ketubah will be a hand-crafted fine art print, made with archival pigment inks on fine art paper (often referred to as a giclée). This is the same technique I use for the photography I sell in fine art galleries. All of my designs are created specifically for the giclée process, with rich and vibrant colors. I am proud of my extremely high standards of craftsmanship, color fidelity, and artistic quality, gained from nearly 20 years as a professional in the graphic arts.
Fine Art Paper
I only use premiere archival art paper: acid-free 100% cotton rag paper with a soft matte finish and a slight texture to the touch. This beautiful paper was designed specifically for fine art digital printmaking, and results in bright natural-looking colors.
Archival Pigment Ink
I print with a pigment ink called Ultrachrome, which is widely considered to have the best combination of color-fidelity and fade-resistance available. When properly cared for, this combination of paper and ink should resist fading and aging longer than most photographs, lithographs, or other printing methods typically used for ketubot.
Yes! If you are having a hard time deciding which ketubah you want, there are two ways you can see our artwork in person:
1. Sample ketubahs
We offer sample prints of our ketubahs, made with the same technique, ink, and paper as the actual ketubahs, giving you an accurate sense of its color and style. These 5x7" samples only cost $10 each (includes free shipping), and if you do order your ketubah from us, the first $10 spent on samples will be refunded off the price of your ketubah. You will also receive one of our beautiful full-color catalogs (a $5 value) featuring all of our designs, texts, and options.
2. Our fine art prints
You can also see the quality of our artwork by ordering fine art prints of the photographs used in the ketubahs you like. Our prints are made with the same paper and ink as our ketubahs, so they give you an excellent idea of the beauty of the artwork. And unlike samples, these prints can be framed or given as gifts. Order fine art prints.
Each ketubot I make has a set of options you can choose from to customize your design. Click here to see the full list. However, other than these options, no other aspects of the design (such as text font, text color, or layout) can be changed. Each design represents a great deal of craftmanship, finding the best balance between the photograph, the colors, and the text. But if you have any questions, please ask! Some changes that may sound complex are quite easy, and I may be willing to do them.
Yes, definitely! In fact, the majority of my customers are interfaith couples, and I get more and more orders from non-Jewish couples every month. Most appreciate that my art is specifically designed my ketubahs to be open and inclusive for people from all backgrounds and religions. People have ordered my ketubahs for interfaith weddings, gay weddings, lesbian weddings, commitment ceremonies, non-Jewish weddings, and aniversaries. I offer a full range of options to let you make a ketubah that matches the needs and spirit of any wedding. For more information, read these articles:
If you choose to have a Hebrew text on your ketubah, it will traditionally be filled in with your formal Hebrew name. This is a combination of your Hebrew name plus your parents' Hebrew names, for example: Rachel bet Moishe v'Sarah, which means "Rachel daughter of Moishe and Sarah".
For anyone who does not have a Hebrew name, whether they are not Jewish or simply can't remember it, we instead write their English name phonetically in Hebrew characters.
The colors in my ketubah deisgns have been specifically chosen for their beauty when printed. Since colors seen on a computer look different from those on paper, the colors you see on my website or in your proof will not exaxctly match your final ketubah. However, I have worked hard to make the online images reflect the printed colors as closely as possible.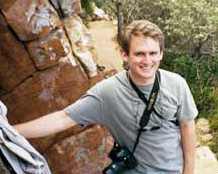 That's me, Daniel Sroka. I have been a visual artist all of my life, and have worked professionally as a graphic designer for almost 20 years. Since I am the artist who created these designs, I can ensure that your ketubah meets my exacting standard of quality. Your ketubah will be an unique work of art, created specifically for you by me, the artist.
Modern Ketubah is an artist-owned and run business, and the personal one-to-one relationship with my clients is very important to me. Be sure to say hi!