Creating an interfaith ketubah for your interfaith wedding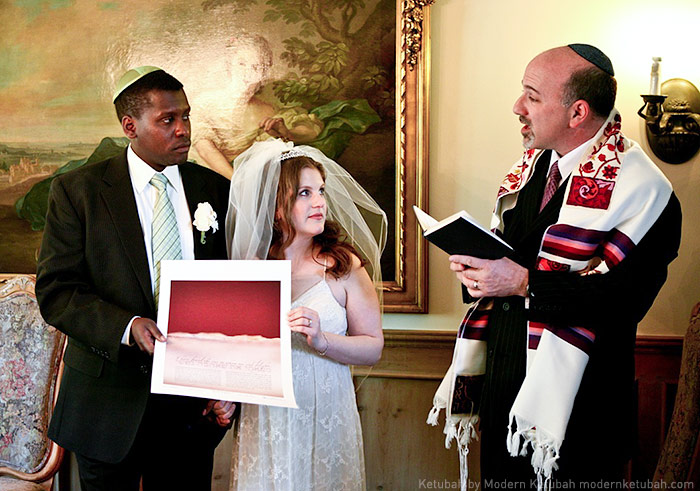 Interfaith weddings represent a beautiful moment: the joining of two traditions into one family. This gives interfaith couples the opportunity to create a ketubah that not only appeals to them artistically, but also symbolizes the coming together of their religions and traditions.
I created all of my ketubahs specifically for interfaith couples
My wife and I are an interfaith couple. The frustration we felt over not being able to find a ketubah that didn't feel one-sided is what encouraged me to make my first ketubah. I believe that many traditional ketubahs, which rely heavily on Jewish symbolism and language, are not a good fit for interfaith couples. These ketubot feel as if they are ignoring the non-Jewish half of the marriage. It is important for the interfaith couple to find a ketubah which which celebrates both halves of their union by using symbols and language they both share. I make all of my ketubah designss open and inclusive. All of my designs avoid religious symbolism, and instead use images of nature, flowers, and leaves — symbols that have meaning for everyone.
Texts and options for interfaith ketubahs
My ketubah texts use language that is open and modern, carefully written to acknowledge people from different backgrounds. Combining these images and words, my ketubot become a lasting symbol of a union between two individuals, two families, and two traditions.
Since an interfaith ketubah is not bound by any specific rules, you have a lot of freedom over what you want it to say. I wrote a number of texts specifically for interfaith couples that honor the traditions and values of both families, and celebrate how you are "...two individuals becoming one couple, two families becoming one family." I also offer a number of poetic verses from a variety of non-traditional sources such as Aristotle, Thoreau, and Ghandi.
How to make your ketubah a part of your interfaith wedding ceremony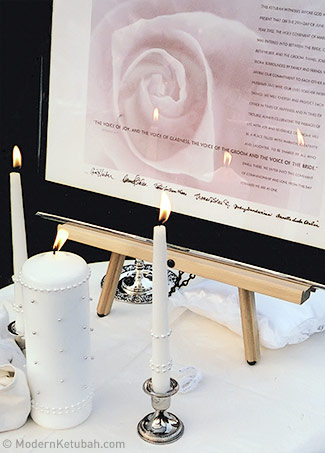 Interfaith couples work very hard to make sure that their ceremony somehow incorporates both of their traditions. There are many ways to make a ketubah a part of an interfaith wedding. If your ceremony is a based on a Jewish service, you may follow the Jewish custom of signing the ketubah before the ceremony. If your ceremony is based on a Christian service, you might make the signing of the ketubah a part of the reception. If your ceremony combines both traditions, you might want to pair the ketubah with a Christian tradition, by having your officiant read the ketubah aloud while you light the unity candle. Many people have their ketubah on display during and after the ceremony, giving their Jewish and non-Jewish guests a chance to share and discuss its meaning. Whatever you do, be sure to be thoughtful of your non-Jewish guests and somewhere provide an explanation of the meaning of the ketubah, to both the Jewish tradition and your own ceremony.
Here's how one of my couples incorporated a ketubah into their interfaith wedding:
"My fiance's family is Jewish on his mother's side and I am Catholic, although more spiritual than religious. We're having a civil ceremony officiated by a friend, and are incorporating some sacred moments into it. I knew right away that we should have one of your Ketubot — not only for that ceremonial aspect we wanted, but because the text says exactly how we feel about our commitment to each other." —
Jennifer and Shane, San Francisco
Some personal thoughts on interfaith marriage
I believe that interfaith couples have a deep understanding of religion's place in their lives. Some people assume that being married to someone from the same religion would be easier than being in an interfaith marriage. But this is not necessarily true. I work with many couples who are both of the same religion who assume that they share the same traditions and belief, only to later discover that they have very different understandings and opinions about their faiths. But an interfaith couple cannot make any of these assumptions.
Interfaith couples realize from the start that they have to talk about everything, to explain everything. They have to learn how to approach the very tricky subject of religious beliefs with sensitivity and compassion, and thereby often develop a more realistic understanding of how religion fits into their lives. They have to talk about how they were raised, what they believe, what they are unsure of. They have to think how they want to raise their kids, and celebrate the holidays. The have to figure out how to talk about family, heaven, sin, faith, God. They have to talk, they have to discuss, and more importantly, they have to make decisions about all this as a couple. This ongoing conversation makes them, their family, and their faith stronger. I always recommend to the couples I work with that they should treat their relationship as "interfaith", whether they techincally share the same religion or not. Assume that you are different, be open to differences from your partner, and learn how to make decisions as a couple.
Learn more about interfaith weddings
I hope this article helped you undertand interfaith ketubahs a little more, and how they can be designed to become a true symbol of your marriage. If you have any questions, please contact me.