Making a ketubah for a non-Jewish or Christian wedding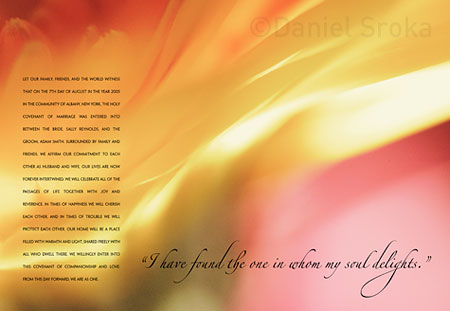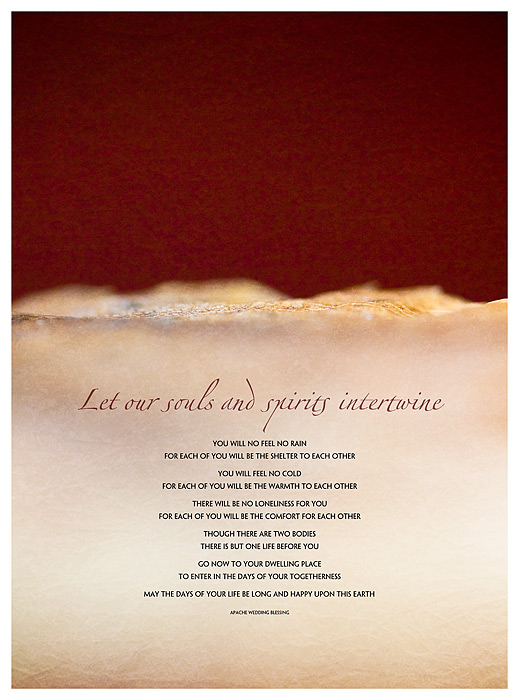 The ketubah is such a beautiful tradition, rich in art and symbolism, that the first time people see it, they fall in love with the idea. I've had many non-Jewish couples come up to me and say "I wish I could have one for my wedding." To which I say, of course you can! Ketubahs are growing in popularity with people from all religions and backgrounds.
"Thank you for doing what you do! We are from different faith traditions, and neither of us had ever even heard of a ketubah until our officiant told us about them. We both liked the idea of having that daily visual reminder and affirmation. Since neither of us are Jewish, the traditional styles just didn't resonate in any way. But when I discovered your website and looked at your work, it matched what we had in mind." —
Connie and Walt, Portland
At its heart, the ketubah is a work of art hung in your home that symbolizes the beauty of your marriage. Unlike the cake, the flowers, the band, and all of the other countless expenses of your wedding, it is one of the only parts of your wedding day that lasts beyond the day itself. It is a permanent reminder of your marriage vows that you will see ever day of your life. This is something that any couple from any background or religion can appreciate and make their own.
choosing the right artwork
Since you don't have to follow any specific tradition, the choice of the artwork itself is very important: your ketubah has to be a work of art that you find beautiful enough to be in your home forever.
This is why all of my ketubah designs are created from artwork that can be appreciated by people from any background or culture. I am an artist, so I create all of my ketubahs from my own fine art photography of nature, using beautiful abstract images of flowers and leaves to symbolize the life, energy and soul of your wedding vows.
choosing the text for your ketubah
The text used in the ketubah helps convey your feelings about marriage, and your love and commitment for each other. I have written a wide range of texts that you can choose from for your ketubah. Or many couples decide to write their own words. The text is then customarily personalized just for you, including your names and date of the wedding. Each of my ketubah designs also includes a poetic verse. I offer a number of traditional verses from the Song of Songs, that many couples love, or more modern thoughts on love by Shakespeare, Thoreau, Moliere, and Ghandi.
steps to making your ketubah
First, choose the art for your ketubah.
Choose the text for your ketubah, either one of mine or your own. (Be sure to select "none" for the Hebrew text option.)
Decide if you want a place for you, your officiant and your witnesses to sign
Choose the poetic verse for your design. (Be sure to specify that you just want it in English).
including the ketubah in your wedding ceremony
There are many ways to make a ketubah a part of your ceremony. You may follow the custom of signing your ketubah is a small ceremony before your wedding, as a symbolic complement to your community's official wedding contract. Many couples then have someone read the words of the ketubah during the wedding itself, by either the officiant, best man, or maid of honor. After the wedding, you can display your ketubah in the reception hall, giving your guests a chance to share and discuss its meaning.