The top questions asked about ketubahs:
How long does it take to get a ketubah?
Will I get to see a proof my ketubah?
Can I see a sample of how my ketubah will look?
How do I order an interfaith ketubah?
Where can I find an interfaith officiant?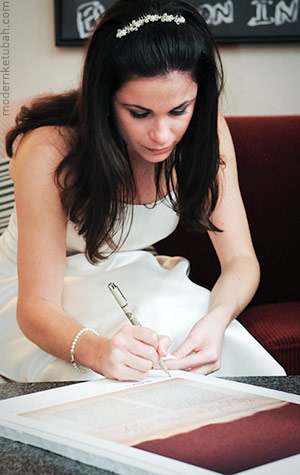 FAQ: Common Questions about Ketubahs
I have collected the most common questions I get about ordering a ketubah. If you have any other questions, please write or call me — I'd love to answer them for you.
How long does it take to order a ketubah?
Rush orders
What information do I need to collect?
Proofing your ketubah
Shipping
Payment
Making changes to your order
Cancellation and return policy
Can I get a sample of a ketubah before I place my order?
How will my ketubah be printed?
What paper will my ketubah be printed on?
Will my ketubah match the colors I see online?
Can changes made to a ketubah design?
Can couples who are interfaith or not Jewish get a ketubah?
What if one of us doesn't have a Hebrew name?
Who makes my ketubah?
Caring for a fine art print
Before the wedding
What pen to use to sign the ketubah
Protecting your ketubah during your ceremony
Framing your ketubah
Hanging your ketubah in your home

Interfaith wedding officiants and celebrants
Wedding Resources and Services
Ketubah information and accessories
Interfaith organizations
Fine Art Judaica
Fine Art Judaica Collection - I have curated this collection of fine art Judaica, artwork that I believe captures some of the same aesthetic and spirit as my ketubahs. I do not sell this art myself, but provide a link direct to the artists' own websites.
Memberships
I am a proud member of the following organizations: