About Modern Ketubah and why I make Ketubahs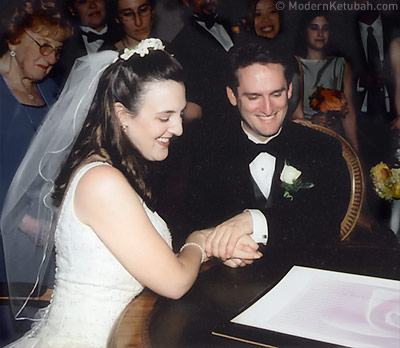 My name is Daniel Sroka, the artist and owner of Modern Ketubah. I am an award-winning fine art photographer, with a 25-year career in visual design. Since 2003, it has been my honor to create over 1,400 ketubahs for couples around the world.
My first ketubah was the one I made for my own wedding. My fiancée Cara and I decided that our ketubah had to meet two goals. Being an artist myself, we had to love the artwork -- it had to be something we'd hang in our home even if it wasn't a ketubah. And being an interfaith couple, its text and symbolism had to be meaningful for the both of us.
We spent weeks searching, looking through hundreds of designs, but none felt right. Every ketubah seemed to rely on the same over-used imagery: stars of David, trees of life, pomegranates, Jerusalem skylines, etc. These symbols get used so often, for so many purposes, that they didn't hold any real meaning for us. We wanted something more special, more relevant to us.
At this time, I was working on an art project photographing the garden of our new home. One day, as I was showing Cara my photographs of an old rose bush, we realized that we had found the perfect art for our ketubah. This ancient rose bush -- strong, tough, and protective yet capable of creating flowers of beauty and grace -- said more about our values and thoughts on marriage than any of those dull, traditional images. So I created our ketubah, writing the text and using my own artwork.
So many people fell in love with our ketubah, that I was inspired to create more ketubah designs based on my photography. Building on my experience as the original creative director for Yahoo!, I launched my own online business, and have been making ketubahs ever since.
What is special about Modern Ketubah?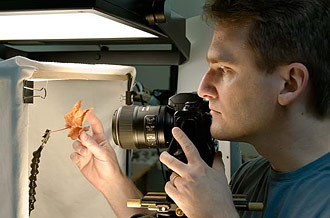 Modern Ketubah is an artist-owned and operated business, based out of my studio in northern New Jersey. Unlike those large "warehouse" ketubah stores, when you buy your ketubah from me, you are working directly with the artist who is creating your ketubah.
The ketubahs I make blend my fine art photography of flowers and leaves with beautiful, contemporary language. They are works of art, identical in quality to the fine art I sell to galleries and collectors. My ketubahs are for people who don't want an old-fashioned ketubah -- they want one that fits with their modern sense of art, style, and spirituality.
Since my wife and I are interfaith, all of my ketubahs are also designed to be perfect for interfaith and multicultural weddings. My goal is to create ketubot which any couple, from any background or situation can find meaningful and significant.
I am a career artist with over 20 years of professional experience, and my work reflects my commitment to originality, beauty, and quality. I take great pride in making sure that every ketubah I make is a handmade work of art you'll be proud to display in your home.
Some press about Modern Ketubah