Yes, you can have a ketubah! I make ketubahs for all kinds of weddings.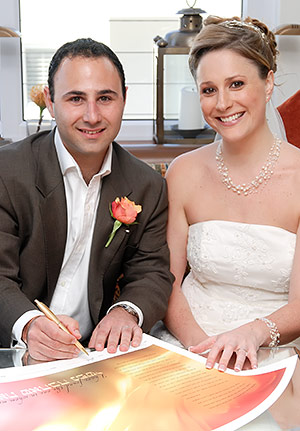 While the ketubah has its roots in Jewish wedding tradition, its beauty is now embraced by couples from all different religions and cultures. Can you have a ketubah? Absolutely! I have created ketubahs for all kinds of couples (Jewish, Interfaith, Christian, multicultural, same-sex, and non-religious) and ceremonies (weddings, commitment ceremonies, anniversaries and vow renewals).
A ketubah is a work of art that express the love and commitment of your marriage vows. read more
Interfaith weddings merge two traditions into one. Learn how to make an interfaith ketubah, and how to make it a part of your ceremony. read more
For same-sex couples, the ketubah has become a proud and public celebration of their love and commitment. read more
The ketubah is a such a meaningful symbol of marriage that more and more non-Jewish couples are adopting the tradition for their own wedding. read more
Most ketubahs are just signed by five people. But some couples want more -- they want everyone at the wedding to join in and sign their ketubah! Here's how to do it...
I have made a large number of anniversary ketubahs for couples celebrating major milestones in their marriage. read more
Read The Modern Ketubah Blog to learn more about interfaith weddings, wedding ideas, and my latest ketubah designs. Posts have included: