How to order your ketubah from Modern Ketubah
Like every part of wedding planning, buying a ketubah can at first seem a bit overwhelming. But it's not, and I am here to help you along the way. Let me go through the process, step by step, so that you better understand how you find your own ketubah. This whole process usually takes from 2 to 4 weeks (you can't rush art!), so be sure to plan ahead.
1. Find art that you love
Your ketubah will be a central piece of art in your home, so it has to be something that you love. Don't settle for less! I hope you chose one of my ketubahs, but if you don't feel that "I love it!" gut-check, then take your time and browse around. Now is the time to be picky. If you want, I can recommend other ketubah artists I know and respect.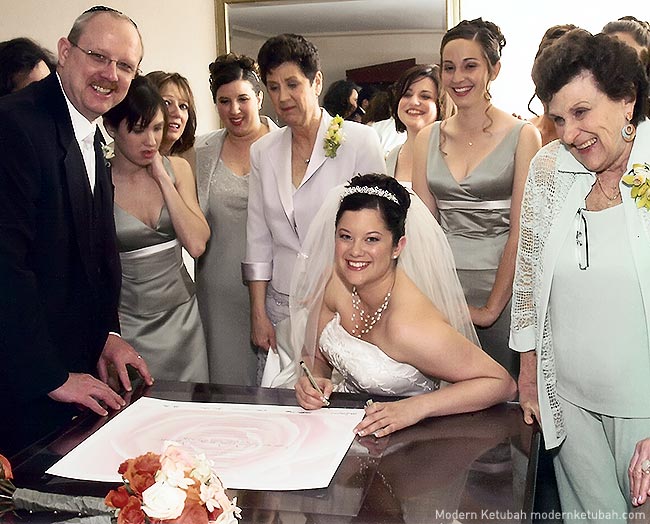 2. Choose text that you find meaningful to your marriage
The heart of the ketubah is the text, which expresses how the two of you feel about marriage, love, and your commitment to each other. You have a lot of options for what your ketubah can say. I offer many different texts, in both English and Hebrew, written to address the needs of a wide range of ceremonies and couples. You can tweek any of my texts to make it perfect, or even choose to use your own words. I then personalize the text you choose with your names, the date and the location of your wedding, free of charge. (It's a good idea to talk with your rabbi or officiant, to see they have any special suggestions.)
3. Place your order
Once you find your ketubah, click the button that says Order This Ketubah. My easy-to-use order form will take you through each step, letting you create the exact ketubah you want. After you fill in your information, your'll be able pay for it from my secure webpage with your credit card. I'll send you an email receipt which summarizes your order, and gives you any additional information you might need.
Have some questions first? Give me a call toll-free at 866-285-0164 or send me an email.
4. I create your ketubah
After I receive all of your ketubah information, I personally create your ketubah for you. I take great pride in my craft, and work hard to ensure that every ketubah I make is a handmade work of art, worthly of hanging in your home.
5. Review your proof
Next, I create an digital proof of your ketubah and email it to you. It is now your job to check everything in the ketubah for accuracy: options, names, dates, spellings, punctuation. Make sure your rabbi reviews all of the Hebrew text as well.
6. I print your ketubah and ship it to you
After you approve the proof, I print your ketubah for you. I have nearly 20 years of experience in graphic arts and printing, and my prints represent the finest quality available. I then carefully ship your ketubah in an extra-strong shipping tube (the safest way to transport fine art), along with some advice for how to you care and display your new work of art.
7. Go get married
That's it! The rest is up to you: sign your ketubah, get married, enjoy your reception, and celebrate the start of your new life together. And don't forget to send me a picture!