How to create your Modern Ketubah in 5 easy steps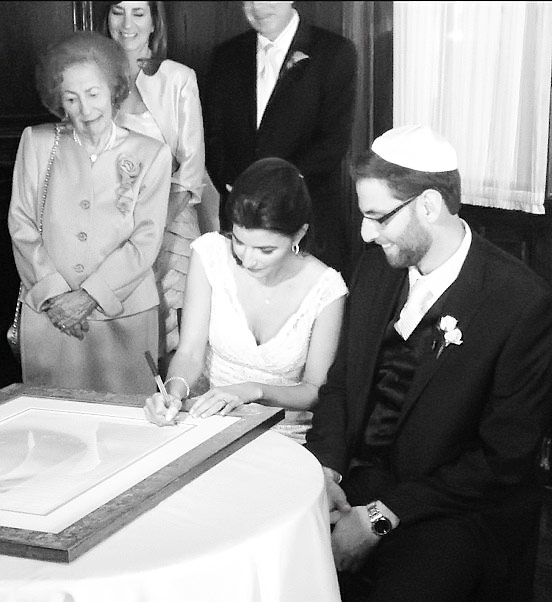 Like many parts of wedding planning, buying a ketubah can feel overwhelming at first, but my years of experience will make it smooth and simple. Making a ketubah is a partnership, and there's a lot for all of us to do, so be sure to plan ahead. The whole process usually takes 4 weeks.
1. Find a ketubah that you love
Your ketubah will be a central piece of art in your home, so make sure it is something that you love. Don't settle for less!
2. Choose a text that best fits your ceremony
The heart of the ketubah is the text, which expresses how the two of you feel about marriage and love. I offer many different texts, in both English and Hebrew, that were written for a wide range of ceremonies and styles. You can edit these texts, or choose to write your own. (It's a good idea to talk with your rabbi or officiant, to see they have any special suggestions.)
3. Collect all of the necessary information
I will need the following information to make your ketubah:
how you want your names to appear:

do you want to use your middle names? (e.g. "Rachel Stein" or "Rachel Sarah Stein")
do you want to include your parents' names (e.g. "Jane Smith, daughter of Daniel and Ellen Smith"

the date and location (city, state) of your ceremony
how many people will be signing the ketubah
If you are using a Hebrew text, I will need some more information:
the time your ceremony starts
your Hebrew names, and your parents' Hebrew names

if someone doesn have a Hebrew name, provide their first name in English
if you can't spell a name in Hebrew characters, we'll take care of it

to give your parents' names the approriate honorific, I need to know if either father is a Cohen or Levite, and if anyone has passed away
for Conservative or Orthodox texts, we need to know if this is the bride's first marriage, or if she's a convert, divorced, or widowed
This information can sometimes take time to gather (e.g. not everyone remembers their Hebrew name), so be sure to plan ahead. You can fill this in online when placing your order, or download this form and send it by email.
4. Order your ketubah
My easy-to-use online order form will take you through each step to create the exact ketubah you want. Fill in all the info, pay via credit card, and I'll send you an email detailing all your choices. After you place your order, it will take around 4 weeks for you to receive your finished ketubah.
After I receive all of your ketubah information, I personally create your ketubah for you. I incorporate the design options you chose, and personalize the text you choose with your names, the date and the location of your wedding, free of charge. I take great pride in my craft, and work hard to ensure that every ketubah I make is a handmade work of art, worthly of hanging in your home. When the ketubah is ready, I email a digital proof of it to you.
5. Review and approve your proof
Important! I cannot print your ketubah until you review and approve the proof.
It is now your job to check everything in the ketubah for accuracy: making sure it has the design options you chose, and that all names, dates, spellings, punctuation are correct. This is very important — while I check everything as best I can, you are the final decider for the accuracy of your ketubah.
Important! For a Jewish ceremony, you need your rabbi or officiant to review and approve the Hebrew text.
If you find anything that needs to be fixed or changed, I take care of it and send you a new proof, which you'll once again review and approve. (While fixes to typos or tweaks to words are free, if you decide you want big changes to the design, like different art or text, there could be an additional fee.)
I will then print your ketubah and ship it to you
After you approve the proof and confirm it is exactly the way you want, I print your ketubah on archival fine art paper. (This is my favorite part, seeing the finished ketubah for the first time!) I then ship your ketubah to you in an extra-strong shipping tube (the safest way to transport fine art), along with some advice on how to you care and display your new work of art. That's it! The rest is up to you: sign your ketubah, get married, enjoy the reception, and celebrate! (And don't forget to send me a picture.)