FAQ: How to care for your ketubah
[ return to FAQ ] [ download PDF ]
Your ketubah will be created using archival-quality paper and inks, designed to minimize the effects of aging. As with any work of art, proper care of your ketubah is very important. The two enemies of archival prints are UV light from the sun and acidity from your hands. It is best to keep the ketubah out of direct sunlight, and behind UV-protected glass when framed. It is best to handle your ketubah as little as possible, since the oils on your skin can counteract the archival quality of the paper. If you need to move it, make sure your hands are clean and dry, and hold it by the edges, never directly touching the image.
When you ketubah arrives, carefully remove it from its shipping tube. The ketubah will be surrounded by sheets of acid-free tissue paper. Place it between the tissue paper and sandwich it between two pieces of heavy cardboard. Place a heavy book on top to keep the ketubah flat and help remove all curves. Store the ketubah flat like this, until the day of your wedding, out of direct sun and in a cool, dry place.
Are you traveling to your wedding? Here's my advice on
keeping your ketubah safe while traveling
.
The "best" pen to sign your ketubah with is an archival pigment ink pen. This is the same kind of ink used to print the ketubah, and should not fade. These can be found in any art or framing stores, or online from the link below. However, most people just use a good-quality ball-point pen. For my own wedding, I had a fancy pen picked out, but then promptly forgot it in all the excitement. We ended up using the ball-point our rabbi carries "just in case" and it worked fine. For any pen you use, just make sure its not a cheap one that blotches or smears. It is a good idea to always test your pen first on the bottom-most edge of the ketubah's paper, in a space that can be trimmed off when it is framed. Make sure the ink doesn't bleed or smudge easily. And never use felt-tip pen (no Sharpies!) since it will bleed into the paper.
Pigment pens can be bought at any art store, or online:
Blick Art Store: Sakura Pigment Pen (single black pen)
Amazon: Sakura Pigment Pen (4 pack, black and sepia)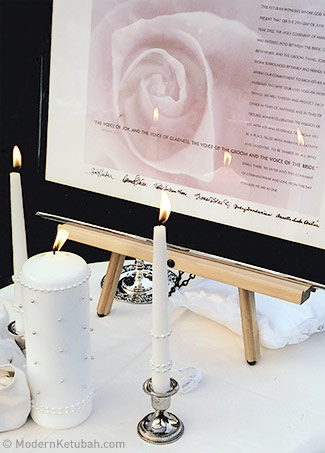 The easiest way to keep a ketubah safe (from wine spills, fingerprints, happy tears) before and during the ceremony is to use an inexpensive plexiglas poster frame. These are those frames where a sheet of plexiglas is sandwiched to a backing board by clips on all four sides. This lets you carry the ketubah safely to the wedding, while making it easy to access the ketubah for the signing ceremony. It also makes it easy to show the ketubah at the ceremony and reception by propping it on an easel.
After the ceremony, take your ketubah to a quality frame shop and ask them frame it like they would any work of fine art. Any kind of frame will work as long as it is archival quality. This means that the mat is acid-free, and non-buffered, and the glass (or plexiglas) has UV protection. Also, the ketubah should be attached to the mat using art corners or cloth tape. (I do not recommend that you let them dry mount your ketubah, since this cannot be undone.) It may cost more, but the investment will be worth it. Make sure they understand what this ketubah means to you, and that it is irreplaceable.
A work of art will usually have 3-4" of mat on all sides, plus the size of the frame itself (1-2" per side). So when framed, the standard ketubah will takes up about 16x20" of space on the wall, and the large ketubah will take up 20x26".
Like all fine art, your ketubah is sensitive to the environment it is hung in, and needs to be treated with care. When choosing where to hang the ketubah in your home, keep it away from direct sunlight. Also keep your ketubah away from walls that have large fluctuations in humidity, such as exterior walls, or walls over fireplaces, air-conditioners, large windows, bathrooms, etc. Paper tends to absord moisture in the air, and large changes in humidity can result in buckling.