Visit the atist's website and store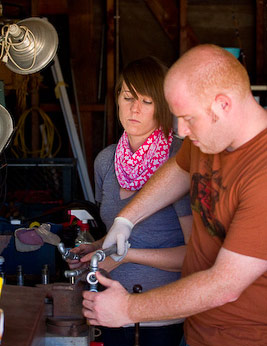 Founded by designer-artists Josh Korwin and Alyssa Zukas in 2006, the notschlock brand was founded on the principle that religion does not necessarily need to be tacky. Specifically, the pair were frustrated before Hanukkah 2006 to find that the Internet's selection of Hanukkah menorahs (a.k.a. Hanukkiahs) was lacking a certain young, hip aesthetic. In response, they created the Man-orah, a Hanukkah menorah built from galvanized steel plumbing pipe, for their own use. The feedback they received on the Man-orah was so positive that they decided to expand their brand and create more products for sale, including apparel in addition to artifacts of judaica.
Josh Korwin has been a graphic designer for over a decade with his design business Three Steps Ahead. Growing up as a Jew in New Jersey, he never felt like he fit in with the gold-sequin-yarmulke Bar Mitzvah crowd. Now living in Southern California, notschlock has been his way of creatively expressing his culture.
Alyssa Zukas is an artist, designer, and arbiter of good taste whose credits include clothing and housewares at Urban Outfitters, and her own brand of designer goods, Two String Jane. In between building menorahs, she spends her time drawing, redesigning old clothing, redecorating, and eBay sniping.
Products by Notschlock:

Galvanized steel pipe menorah.
The Ma-noir-ah is a black steel pipe menorah.

Candlesticks with a manly touch; suitable for a Shabbat with the boys.