Testimonials from our customers
The best part about making ketubahs are the people I get to meet. Here are a few of the wonderful comments I have heard from my over 1,400 customers.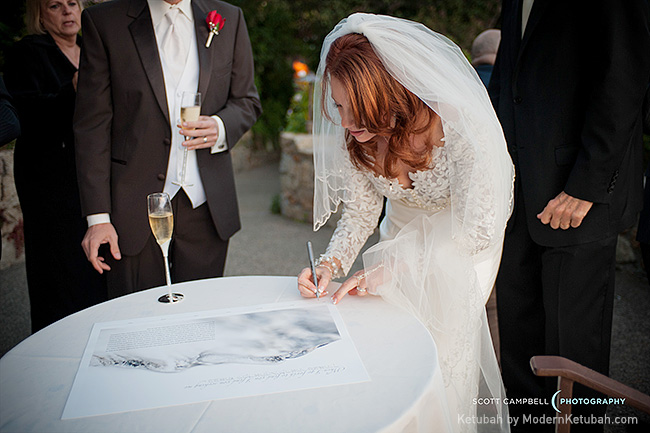 Rachel and Ben - Carmel, CA. (Photo by Scott Campbell)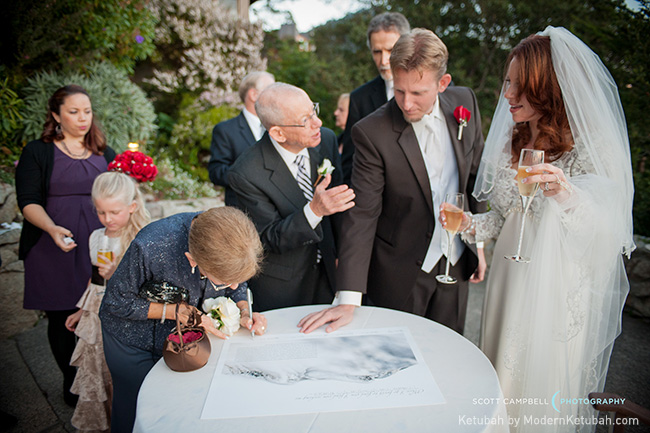 Rachel and Ben - Carmel, CA. (Photo by Scott Campbell)

Nicole and Jonathan - Toronto (Photo by Emile Marino)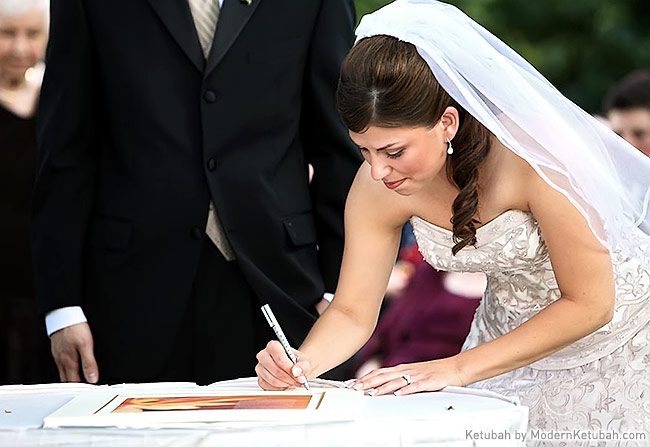 Beth and Christopher - Chicago

L: Samantha and Andy - Boston. R: Sarah and Jason - Cape Town, South Africa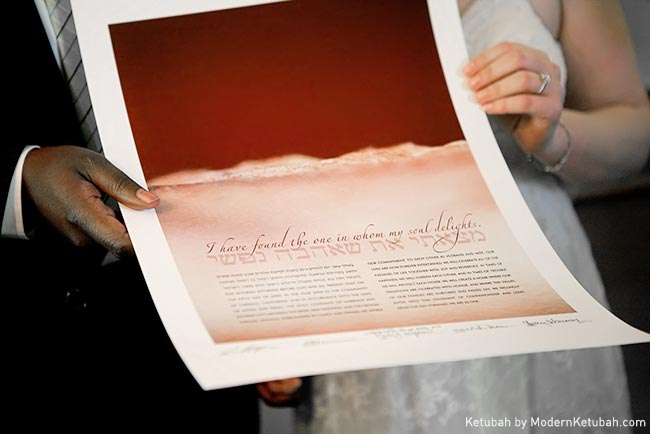 Erin and Sundi - Los Angeles. Featured in Wedding Yentas. (Photo by
Mi Belle Photography)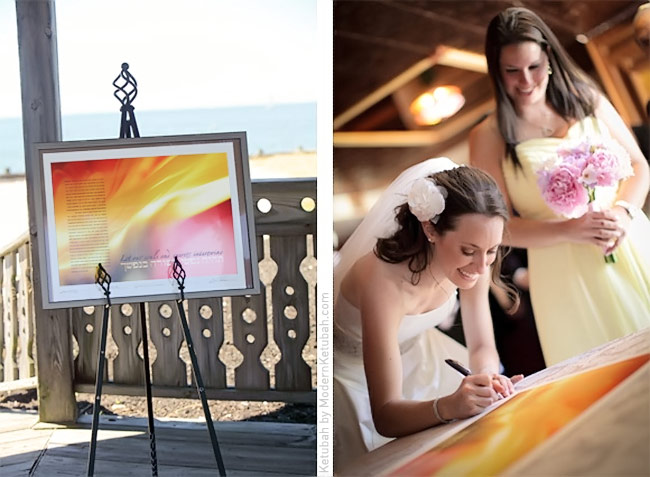 Dawn and Alan - Sayville, New York. Featured in Wedding Yentas. (Photo by Photography Verdi)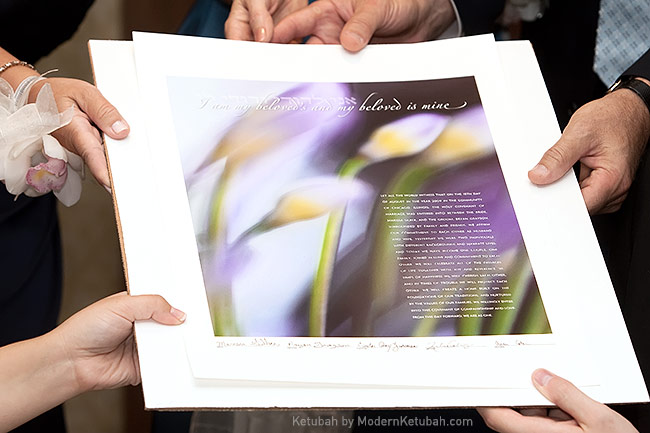 Marissa and Bryan - Chicago (Photo by Christina Frances Photography)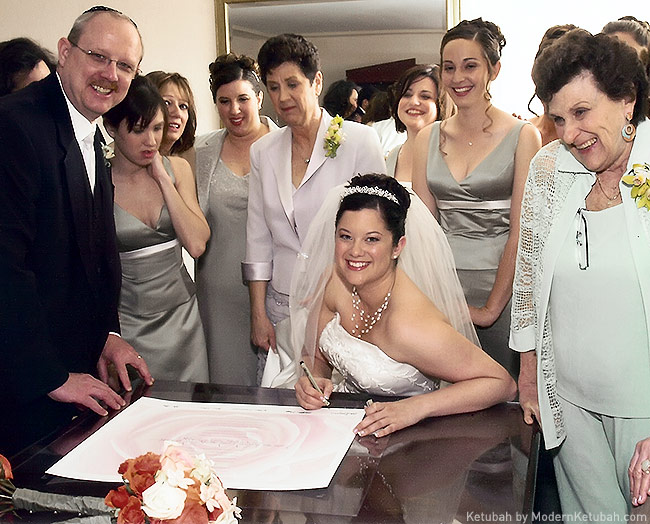 Kathryn and Matthew - Los Angeles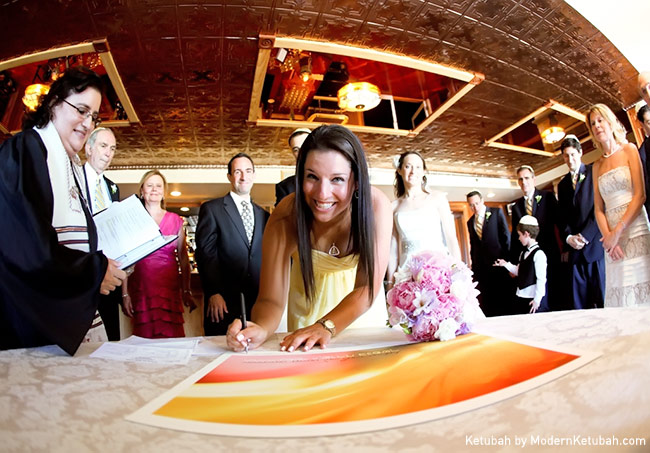 Dawn and Alan - Sayville, New York. Featured in Wedding Yentas. (Photo by Photography Verdi)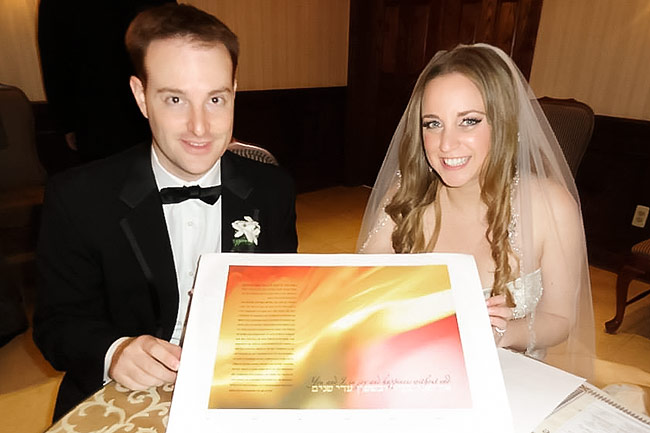 Elissa and Chris - West Chester, PA
"Please know that your artwork will always be a important part of our lives."
Jen and Brett
We are both thrilled with the quality and beauty of your work! It will be one of our most treasured wedding momentos, and a visual reminder in our daily married life.Connie and Walt - Portland
We are so excited to make you a part of our wedding day and have a wonderful memory for years to come. Thanks so much for giving us the opportunity to select a ketubah that better represents what we were looking for in a piece of art that we can proudly hang in our home. Mindy and John - Pennsylvania
Thank you for creating such a special ketubah for us. It's a beautiful piece of artwork in our home! Nicole and Jonathan - Toronto
"Our ketubah is so beautiful it literally makes me cry. The graceful imagery and eloquent words never fail to remind me how grateful I am. All I have to do is look at it and I remember the two of us holding hands under the gazebo that amazing day."
Brooke and Jez - London, UK
We are hanging our ketubah right by the front door... and something about it just lifts my spirits every single time I see it. What a gorgeous way to sign our marital vows — it is the most meaningful part of my life and the most beautiful piece of artwork I have ever seen. Melissa and Greg - Washington, D.C.
I searched extensively for a ketubah that was fresh and more modern than the traditional designs, and yours were the only ones that fit our style. And for something that will become a permanent part of our home, that is very important! Alisa and Alexander - Brooklyn
"A real person, not some nameless, faceless, corporate entity, designed our ketubah for us as a celebration of our special day!"
Sherrie and Ray
Everything about our ketubah exceeded our expectations. It is so unique and beautiful. Our ketubah is truly a work of art that we will enjoy prominently displaying in our home in the years ahead. Julia and Steve - New York, NY
We spent quite some time looking at ketubahs, not finding anything we could envision hanging on our wall for years to come, but then when we found your designs it was a matter of minutes before we chose one. Your work is really beautiful, and we very much appreciate how flexible the wording and symbolism are. I'm Jewish and Ami isn't, so it was important to us that the ketubah reflected our feelings without heavy religious connotation. Diana and Amitavo - Florida
I can barely express to you in words how thrilled my fiancé and I are about our Ketubah. Your photography immediately gave us such a uniquely special feeling. And in combination with the words you've written, your photography is the only work that truly captures and translates those intangibles that marriage symbolizes -- love and beauty -- in a way that's relevant to us. Your work is just beautiful, and will be a special part of our lives for ever! Jill and Mark - Chicago, IL
"Our ketubah is truly stunning, gorgeous beyond our dreams."
Bernadette and Jennifer
We spent countless hours on all sorts of ketubah websites and we just didn't love the more traditional ones out there. I personally looked at over 1,000 ketubahs one afternoon. While many of them are beautiful, they really aren't our style. We don't like the intertwined trees, the Star of David, etc. that is typical of most ketubahs. We knew we wanted something to hang on the wall of our condo that went with our modern style. Many of the more traditional ketubahs would stick out like a sore thumb. We tend to like things that are a little less mainstream as we prefer to showcase things others don't have or haven't even seen before. The uniqueness is important to us. And your ketubah complements the style, look and feel of our home perfectly! Aaron and Stacia - San Francisco
Five years of marriage and two little boys later we still love our ketubah and are so proud our children are growing up seeing the beautiful representation of love and commitment you created everyday. Melissa and Michael - New Jersey
"We really love that our ketubah is original, creative, beautiful and modern. Thank you for all of your help!"
Lauren and Adam - New York, NY
The rabbi thought the ketubah was so beautiful that she incorporated it into the service! Rather than have it signed in a private room as is usually the case, she called all of our guests onto the bimah to see it, read it aloud, and had a public signing. Your ketubah was one of the most complimented parts of our special day and will serve as a beautiful reminder of our renewal for years to come. Kristen and Adam - Minneapolis
Thank you, Daniel. We LOVE our ketubah. Martin and Alex
I wanted to let you know how much we LOVED our Ketubah. We had the signing during the ceremony, so it was incredibly special, and the Rabbi even commented on how beautiful and unique it was. Thank you again, and please know that your artwork will always be a important part of our lives. Jen and Brett
What beautiful art pieces you create! My fiance is Jewish and I'm Christian Chinese, and we've been looking for a ketubah that reflects the contemporary expression of both our cultures. We really love your art and look forward to hanging our ketubah in our home. Christine and Jeff
"First and foremost, I love your work. After hunting for months for a ketubah that was an actual piece of art, I luckily found your artwork. I am absolutely thrilled."
Melissa and Michael - Minneapolis
"Your modern approach to the tradition of the ketubah fits our personalities and our interfaith marriage." Jodi and Brian - New Jersey
"Dan Sroka is an artistic genius. It's the most beautiful Ketubah I've ever seen. Dan, thank you for everything. You are one of the kindest and most understanding people I have ever met. I highly recommend you to any Jewish or Interfaith couples looking for a beautiful work of art for their Ketubah." Samantha and Brandon - New Jersey
"We absolutely love your work and feel truly blessed to have stumbled onto your site. Joel and I had been agonizing over the design of our ketubah for the last few months... the traditional and even modern designs we found just didn't feel right. Both of us love the fall, and we are getting married at the height of the leaf season here in Asheville, in a candle-light ceremony, so the Autumn Gold ketubah will serve as a reminder of our choice to spend the rest of our lives together."Ana and Joel - North Carolina
"Thank you very much for your beautiful work! Your work is incredible and you have been so amazingly quick and professional... thank you so much for everything - we are so happy!" Corrie and Robb - Phoenix, AZ
"A million thanks for your stellar customer service and beautiful work." Jessica and Marcus - Colorado
"I wanted to thank you very much for the wonderful ketubah. It exceeded all of our expectations and was just awesome. Everyone commented on how beautiful and original it is. We also really appreciated your flexibility and communication with us through the whole process." Helen and Andrey - Tucson, AZ
And here are some quick comments...
"We could not be more happy. We will cherish this ketubah for the rest of our lives." — Lon and Susan
"The Ketubah just arrived and looks beautiful!!! Thank you so much it really is just perfect!" — Carla and Jason
"Everyone commented on how beautiful and original our ketubah is." — Helen and Andrey
"Our ketubah is so beautiful it literally makes me cry." — Brooke and Jez
"I can barely express to you in words how thrilled my fiance and I are about our ketubah." — Jill and Mark
"After hunting for months for a ketubah that was an actual piece of art, I luckily found your artwork" — Melissa and Michael
"Your modern approach to the tradition of the ketubah fits our personalities and our interfaith marriage." — Jodi and Brian
"Everything about our ketubah exceeded our expectations. It is so unique and beautiful." — Julia and Steve
"Your work is original and beautiful!" — Andy and Holly
"I knew the ketubah was going to be beautiful, but I couldn't believe how much it exceeded my expectations!" — Lori and Kieran
"Dan Sroka is an artistic genius. It's the most beautiful ketubah I've ever seen." — Samantha and Brandon
"We are honored to have such a beautiful piece of art represent our marriage and life together. Wow!" — Rachel and Matthew
"Our ketubah is perfect! I will definitely recommend you to all of our friends..." — Nicole and Stuart
"Your photography... truly captures and translates those intangibles that marriage symbolizes." — Jill and Mark
"A million thanks for your stellar customer service and beautiful work." — Jessica and Marcus
"Thanks heavens, someone with good design sense is making a ketubah!" — Jill and Greg
"Our ketubah is simply stunning. We highly recommend you to our friends and family!" — Nicole and Jonathan
"It is gorgeous! We love it so much!" — Paige and Stuart
"Thanks so much for the beautiful artistic ketubah; a work of art that we can gladly display forever." — Linda and David
"Thank you for having so many options and the most beautiful photographs. You have made the ordering process simple and direct." — Donna and Jay
"We really love that our ketubah is original, creative, beautiful and modern." — Lauren and Adam
"Thank you again for all of your help, your site truly was a breath of fresh air for me." — Krista and Matthew
"Our ketubah is absolutely magnificent. — It will be a beautiful addition to our ceremony, and a wonderful fixture in our home." — Allison and Brian
"Please know that your artwork will always be a important part of our lives." — Jen and Brett
"Our ketubah is truly stunning, gorgeous beyond our dreams." — Bernadette and Jennifer
"The ketubah is as beautiful as the wedding day itself!" — Peggy (mother of bride)
"I searched the web and by far your ketubahs are the most beautiful!" — Mitzi and Harry
"The ketubah you made for us reminds me of how wonderful the wedding was, and what a wonderful future we have together." — Erin and Harry
"We are so proud our children are growing up seeing this beautiful representation of love and commitment you created." — Melissa and Michael
"The Ketubah is so absolutely gorgeous, it made my mother-in-law cry." — Melissa and Wesley
"The ketubah was a highpoint of the wedding. Thanks for your artistry." — Rabbi Green
"The art of your ketubah was truly a breath of fresh air for me." — Krista and Matthew
"The ketubah is stunning... it exceeds our expectations!" — Jon and Jessica
"We received the Ketubah today and it is simply spectacular!" — Don and Dan
"Our ketubah is unique, romantic, modern and elegant; more than I had expected!" — Heather and Abraham
"We received our Ketubah — it is more beautiful than I imagined. Thank you for creating such a beautiful and meaningful piece for our wedding." — Jessica and Santwan
"The ketubah is absolutely stunning. I am very happy!!!" — Rachel and Brandon
"Your artwork is so much prettier than the traditional stuff!" — Naomi and Jonathan
"I wanted a ketubah we would display like a piece of art in our home. Your's just spoke to me..." — Cindy and Larry
"A real person, not some nameless, faceless, corporate entity, designed our ketubah for us as a celebration of our special day!" — Sherrie and Ray