The Anniversary Ketubah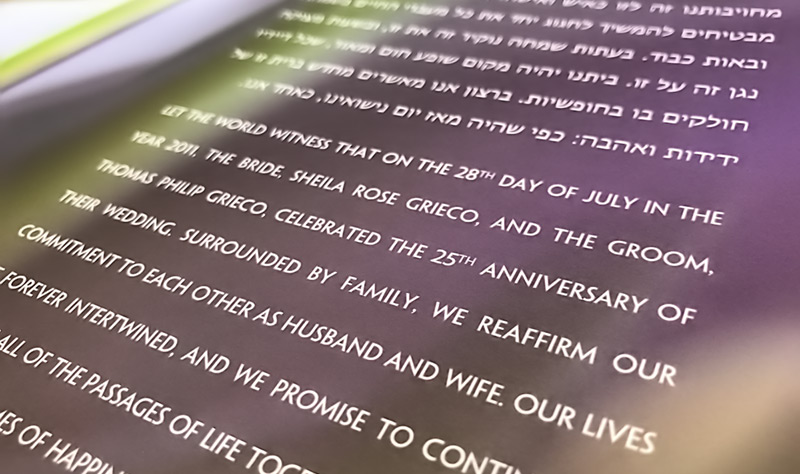 Throughout all the years I have been creating ketubahs, I have made many anniversary ketubahs for couples celebrating milestones in their marriage (including making one for my parents' own 40th).
The tradition of making ketubahs a work of art is an old one, but it has come in and out of style over the centuries. Many people married decades years ago often just used a simple paper "contract" provided by the rabbi. But recently, it has become more and more popular to create a ketubah that is also a work of art that can be hung prominently in the home.
Many couples celebrating a significant anniversary are choosing to complement their official ketubah with a fine art ketubah that they can proudly display in their home.
How to create an Anniversary Ketubah
One of the great things about an anniverary ketubah is that there is so much flexibility. You already have your official ketubah from your wedding, so you can do pretty much anything you like.
Once you choose the art for your ketubah, you need to choose which text you would like to use. You can have your text be just in English, or in English and Hebrew. I offer this text specifically written for anniversaries:
Let the world witness that on the _____th day of _____ in the year _____, the bride _____ and the groom _____ celebrated the _____th anniversary of their wedding. Surrounded by family and friends, we reaffirm our commitment to each other as husband and wife. Our lives are forever intertwined, and we promise to continue to celebrate all of the passages of life together with joy and reverence. In times of happiness we will cherish each other, and in times of trouble we will protect each other. Our home will be a place filled with warmth and light, shared freely with all who dwell there. We willingly reaffirm this covenant of companionship and love: as from the day of our wedding, we are one.
However, you can also choose any of my other texts, and I will gladly modify the first line to mention the date of your anniversary. If you would like Hebrew text as well, I recommend using my translation of the English text, make your ketubah bilingual.
Ketubahs usually have a place for the bride, groom, rabbi or officiant, and two witnesses to sign. If you like, you can continue this tradition, or you can choose to just have yourselves sign it, or have no signatures at all.