This guest post was written by wedding photographers Jennie and Dave of Strawberry Road. We met on Third Tribe, an online forum for entrepreneurs, and struck up a conversation. I have guest blogged for them about creating interfaith wedding ceremonies (here and here) and am happy to be able to offer you some of their deep experience on how best to work with your wedding photographer.
Disappointment is something that is rather intangible, or so I thought. While taking a class on management I learned there is a very simple way to express it as a formula. When expectations meet gratification then disappointment doesn't arise. Conversely, if those two notions of expectation and gratification don't meet, then blood pressure will rise, and in the case of wedding photography, there will be angry mothers and fathers and bridesmaids that wish they were somewhere else besides your wedding! Dan asked us to write a little something about working with your wedding photographer. I took the angle of 'working with your wedding photographer to get the images you want!' After all, the final product is really what it is all about; great images makes for a happy bride, a happy mother, etc. So what can a bride and groom do to make working with the photographer a fulfilling and productive experience?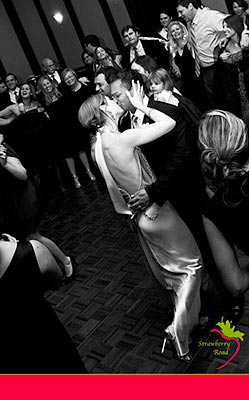 (1) The process starts before you've actually hired your photographer. Don't hire a photographer simply based on their portfolio! If you love their work and they come off as a drill sergeant to you, you don't have to guess how your wedding images will come out! Find someone with whom you click. Chemistry is key here. If you don't like the person taking your picture, more than likely it will show up in your images.
(2) Often times we see brides with expectations of great things from us as photographers. For example a bride may envision a gorgeous sunset shot of she and her new husband. Well, if things are timed such that she and her hubby are on the interstate between the church and the reception during sunset hours, that shot simply can't happen. Plan ahead, plan contingencies! One wedding Jennie and I shot had us shooting the bride and groom under a lovely gazebo adorned with wild roses running up wood trellises. When we arrived with the couple at the gazebo, we found that city funding to rehabilitate the structure came in a week early and it was torn apart for reconstruction! The bride was a shambles for the next few minutes while Jennie and I scouted for alternatives. We ended up getting some fantastic shots around the park using fountains and gardens, but it was definitely hard for the bride to change her vision of her images mid-day.
(3) Every bride has a list of shots that she desires, a myriad of groups and assortments of people, different locations, fun shots, formal shots, etc. When you look at the list of 'desired shots' you hand to your photographer, be realistic. We've seen lists as high as seventy-five group shots for a wedding. A great photographer could get all those shots and do it very well if all the people needed for posed photos were lined up, prepared and being absolutely silent. Sounds easy on paper, but then with a wedding, there's one issue a lot of brides overlook…there's a wedding/reception going on. People are seeing each other for the first time in years, meeting new people and often times, they're drinking. The frustration level for photographers usually peaks at this point. We lose our voices, get exhausted chasing people down, and sometimes even frustrate guests as we pry them from conversation, all the while maintaining our composure and 'going with the flow.' It would be amazing if you, the bride, informed people of the posed shots you expect them to participate in before the wedding day. After all, if people know beforehand what is expected of them, it is much easier to meet their expectations.
Working with your photographer should be fun. It makes for a more relaxed atmosphere, better creativity and better images. Talk with your photographer about what you expect. Not just what you expect with regards to images, but how the day will flow, etc. Go over times and locations in detail. Let the photographer know where you can be more flexible if time gets tight. Having the little things hashed out before your big day will allow everyone to be more relaxed and provide you with the best images possible. As photographers and business-people, we are constantly trying to make expectations meet or exceed your level of gratification. Communication is probably the most crucial aspect of getting there.
Strawberry Road is a fun and quirky wedding / boudoir photography company co-owned by Jennie and Dave. They're friends that work very well together. Dave is technical while Jennie is more 'feel'. Jennie works on a Mac and Dave works on a PC. He drinks coke products while she drinks pepsi, but together they shoot with Canon equipment. They can be found on their website or Facebook.