Lindsey, a new customer, was just telling me why she and her fiancé chose my Center Ketubah, based on a photograph I took of a rose:
My future husband has a thing for roses. He has about 12 different rose bushes growing at our house in Denver. So when we saw your rose ketubahs, we knew we had to get it!
I love this! First of all, it's an honor to have one of my photographs of a rose selected by a true rosarian. But their story also reminded me of my own: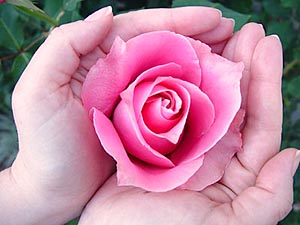 The rose in the ketubah they chose is actually the same rose that I photographed for my own ketubah that I made for my (then) fiancée and I. We had just moved into an old bungalow in the suburbs of San Francisco. Most of the landscaping was a mess, but on the side of the house was this craggy, ancient rose bush. It had definitely seen better days, and was looking rather bedraggled. But we thought we'd give it a shot. We cleaned up the garden around it, pruned it way back, and hoped for the best. The next spring, we were amazed. The old bush began sprouting the largest and most fragrant roses we had ever seen! The flowers were gorgeous, picture-perfect roses. The biggest blooms could fill your hand, as my fiancée is demonstrating in this photo. For the next week, I would bring out my camera and photograph many of these flowers, preserving them, exploring them, getting to know them.
Shortly afterwards, we were doing research for our ketubah. As you might already know, we weren't happy with the ones we found, so I had decided to make one myself. After exploring a number of options, I chose a photograph of this exact rose, and created my first ketubah from it. We loved the living symbolism of this flower: how a tough and resilient vine, tended with a little care, could create flowers of such beauty and grace. This said more to us about what it means to be married than any of the more traditional ketubahs we had seen.
Once I started Modern Ketubah, I went on to make a couple more ketubah designs, Center Ketubah and Opening Ketubah, from photographs I took of that same rose. These designs have become some of my most popular. And every time I make a new ketubah from one of them, I smile and think of that old vine by our old house, still blooming, still growing.