I recently read a post by the bride Diorable as she described how she was planning her interfaith wedding. She talked about how they were choosing the traditions they would have in her ceremony, to make it fit the personality and beliefs of her and her fiancé. As she described it: "This isn't a sundown thing with a ketubah. We are absolutely cherry picking."
I applaude Diorable's creativity and drive to create a ceremony tailored to them. The whole point of the wedding is that it is a ceremony of two people coming together as one, and it therefore needs to reflect who those two people are.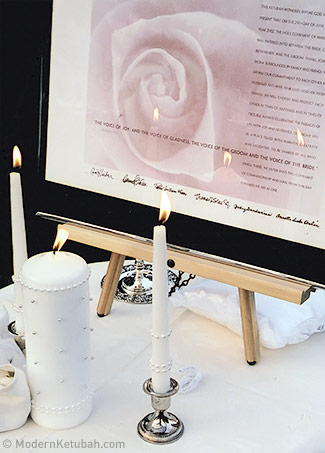 "Cherry-picking" traditions is a common way to construct an interfaith wedding ceremony. When my wife and I were planning our wedding, we also cherry-picked different aspects of our combined Jewish and Catholic traditions for our wedding. This let us honor our traditions, while defining our own combined values. We had two friends sing a modern version of the Seven Blessings. Another friend read an updating translation that I wrote of the famous Corinthians passage "Love is patient, love is kind". We stood under a huppah as my cousin the priest and our rabbi both gave their blessings. We lit a unity candle, then stomped a glass. Some might find this kind of ceremony a little crazy or inauthentic, but we loved it — it fit us perfectly. It wasn't a Jewish wedding, it wasn't a Catholic wedding — it was our wedding.
And of course, even aspects of a ceremony that are considered "very traditional" can be modernized and updated to fit your personality. The ketubah is a perfect example. Many people might still assume that having a ketubah automatically makes a wedding very Jewish or very traditional (as Diorable described it "a sundown thing"). But not any longer. Most of the ketubahs I create are for interfaith and multicultural couples. They decided to add this tradition to their ceremony, but didn't want it to feel overly "traditional". So they made a ketubah that is modern, inclusive, and very personal.
In our wedding, our crazy combined ceremony worked to bring our two families together in a beautiful and special way. Each side could relate to part of the ceremony, and share the experience of something new. We explained the traditions throughout the ceremony, in simple terms, so that everyone could appreciate the parts they weren't familiar with. We worked carefully with our rabbi to make sure the ceremony came together as a whole, and that no one felt left out, or confused. And in the end, our families loved it as much as we did. It was as much a celebration of our new marriage, as it was of our families and traditions that helped make us who we are.
Update 2010-03-01: On the blog Fifty Percenters, PrincessMax shared the details of the thoughtful wedding program she created for her interfaith wedding. It is a great example of how you can explain all of the elements of your ceremony to your family and guests, so that they all feel a part of the celebration.