I'd like to introduce to you two new ketubah designs I have created: the Evergreen Ketubah and the Sun Daisy Ketubah. Both of these modern ketubah designs are available in two sizes, and can be fully customized with any combination of my English and Hebrew texts and design options.
I created the Evergreen Ketubah from an abstract photograph I took of the needles on a pine branch. The soft green colors and patterns makes for a wonderfully modern, yet natural design, perfect for fall or winter weddings.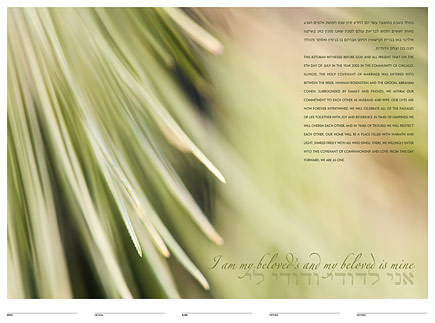 I created the Sun Daisy Ketubah from a macro photograph I took of a gerbera daisy. This photograph was one of my first experiments in macro floral photography, and is still one of my favorites. The petals of the flower gracefully open upwards, catching the light.
Sometimes, my best designs are directly inspired by my customers. Marissa and Robert were browsing my fine art photography website, and had fallen in love with this photograph. Marissa really wanted it for her ketubah: "I absolutely love it and those are actually going to be the colors of our wedding," she told me. That was all the inspiration I needed! I was glad to be able to create a very special ketubah for her, and also have a new design I could offer everyone else.